Warpstock 2010 Travel

Air Travel
Region of Waterloo International Airport (YKF)
WESTJET AIRLINES http://www.westjet.com
- Daily non-stop service to/from Calgary with connections to Vancouver, Victoria, Abbotsford, Kelowna, Edmonton, Regina and Saskatoon
- Daily non-stop service to/from Vancouver
BEARSKIN AIRLINES http://www.bearskinairlines.com/
- Three flights each business day from the Region of Waterloo International Airport to Ottawa. Weekend service is also available.
Pearson International Airport (YYZ)
Most major airlines fly to Pearson from around the world.
Check http://www.gtaa.com/en/home/ for more information.
Check with your travel agent or airline for schedules and rates.

Ground Transportation from Pearson International Airport
Airport Shuttle Service
Airways Transit
-- Waterloo (519) 886-2121
Pick-up at Pearson Terminals 1 and 3
Door-to-door service.
Rates from Pearson International Airport to University of Waterloo
1 person $75;
2 persons $106 ($53 each);
3 persons $115 ($38.34 each);
4 persons $131 ($32.75 each)
[group rates require same pick-up time and location, and same destination]
More information at
http://www.airwaystransit.com/
Public Transit (surface)
GO Transit -- bus to and from Pearson Airport to University of Waterloo -- change buses in Mississauga
-- Route 7 - Pearson International Airport to Square One Bus Terminal, Mississauga via Mississauga Transit
-- Route 25 - Square One Bus Terminal, Mississauga to Universtity of Waterloo
Rates
-- Adult single-ride $12.45
-- Adult two-ride $24.90
-- Senior single-ride $ 6.25
-- Senior two-ride $12.50
-- Seniors are classified as 65 years and older
Tickets are available at select locations and from the driver.
More information at http://www.gotransit.ca -- Schedules can be downloaded from this site.
Driving
Highway 401 to Highway 8 West (Exit 278 from Toronto OR Exit 278B from London). Follow Highway 8 to Kitchener until you reach the Conestoga Parkway. Enter Conestoga Parkway (Highway 85) to Waterloo by the ramp. Follow the Conestoga Parkway to University Avenue. Exit on University Avenue west bound (second exit). Follow University Avenue west until you reach Westmount Street (just past the University) and turn right (north) onto Westmount and go until you reach Columbia Avenue and turn right (east). Turn right at the first road into the University. Turn right at the first road and follow the Conference Centre signs to Ron Eydt Village.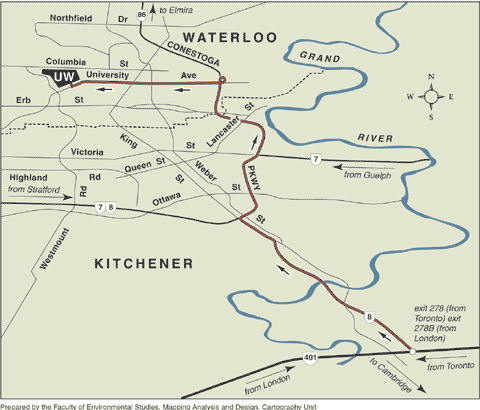 Last Updated Monday, June 28 2010 @ 06:55 PM; 5,988 Hits