Events
Site EventsFriday
01-Dec
Saturday
02-Dec
Sunday
03-Dec
Older Stories
Tuesday11-Jul
Sunday08-Jul
Random Logos



This site is
Powered by...
Warpstock 2008 Fact Sheets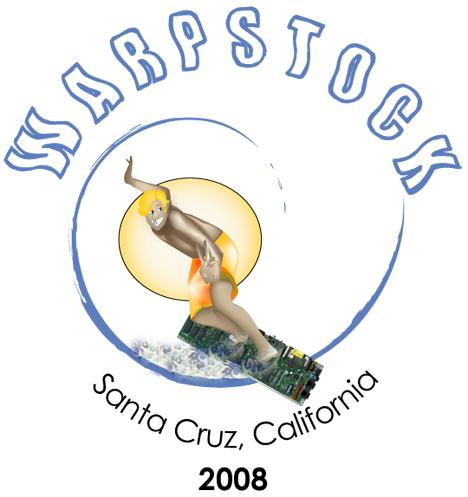 A series of fact sheets are in preparation and will be released at intervals between now and the start of Warpstock 2008.
The Fact Sheets will keep you informed about Warpstock 2008. They are short - one page - information sheets each on one topic.
Index
Fact Sheet 1 - Location
Information regarding the venue for Warpstock 2008 including reservation information.

Location: University of California, Santa Cruz College 8.
Hotel Information: lodging at College 8 is included with Warpstock registration.
Follow this link for Transportation
Parking: plenty of parking is available.
Dining and Recreation: meals are included with Warpstock registration.
Santa Cruz is a beach resort with too many recreational opportunities to list here.
Fact Sheet 2 - Getting to Warpstock 2008
Travel methods for getting to Warpstock 2008.
link to travel page.
Fact Sheet 3 - Registration
The registration page provides information on how to register for Warpstock 2008 at University of California, Santa Cruz on August 15-17, 2008.
Fact Sheet 4 - Social Outing
Provides details of the optional Social Outing to Shakespeare Santa Cruz.
Play: As you like it.
Location: Festival Glen, University of California, Santa Cruz
The location is walking distance from College 8.
Time: FRI August 15, 2008 8:00 pm
Ticket Info: from the website.
Fact Sheet 5 - Official Merchandise

Provides information on Official Warpstock 2008 Merchandise and what items are available from our Cafepress store.
Fact Sheet 6 - What's Happening
Information about the topic for the sessions for Warpstock 2008 and how you can find up-to-date information about the sessions.
Current info on sessions is listed on the Calendar page.
Fact Sheet 7 - Border Crossing
Provides some information about crossing the border into USA and several links to government web sites to get the most current information. This information is in the process of change. So check the web sites for the most current information.
Fact Sheet 8 - Warpstock 2008 Timeline
Provides information about the important dates to remember for Warpstock 2008, including cut-off dates for reservations and the event dates.
Registration closes on July 15, 2008. You must be registered to attend Warpstock.
Fact Sheet 9 - Polynesian Festival on Sunday

ENTER A TEAM IN THE ALOHA CELEBRITY RACES!
These short course outrigger races set for Sunday, August 17, 2008 are designed especially for new or novice paddlers. You provide four people and we will provide a stroker, steersperson, canoe and instruction to start you racing. The $80.00 entry fee ($100.00 beginning August 1) includes 4 T-shirts. 1st - 3rd place teams will receive awards. Proceeds benefit the Pu Pu O'Hawaii Outrigger Canoe Club. Entry forms will be available soon in the Parks and Recreation Office, 323 Church Street. Applications for booth space at the Polynesian Festival for vendors, exhibitors, Polynesian cultural groups and ocean-related organizations. Call 420-5273 or email: wharf@ci.santa-cruz.ca.us.

ALOHA CELEBRITY RACES & POLYNESIAN FESTIVAL
Sunday, August 17, 2008
Races start 9 am
Festival starts 11 am
Santa Cruz Wharf
Designed especially for new and novice paddlers, the Celebrity races are a chance to discover the excitement of outrigger canoe racing. Join the fun or cheer for friends in the race. The Polynesian Festival follows with a taste of the tropics- fresh flower leis, Hawaiian shaved ice, Maori face painting, print making and dance performances. Co-sponsored by Pu Pu O'Hawaii Outrigger Canoe Club. Call 420-5273 or email: wharf@ci.santa-cruz.ca.us. Cost: FREE

Fact Sheet 10 - OS/2 Museum West
The OS/2 Museum West is doing an OS/2 history exhibit at Warpstock 2008. Contributions are welcome, see our web page for the current collection. The exhibit will run from Thursday evening through early Sunday afternoon at the College 8 cafe.

Last Updated Friday, May 30 2008 @ 11:41 AM; 7,745 Hits